Keeping your dog safe in summer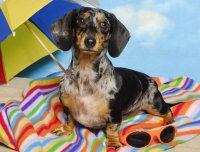 Tips to keep your dog safe during the summer months
Summer is a great time of the year to get out and about, to be more active and generally get a bit of Sun but this has to be tempered by taking adequate precautions when outside. The common adage to slip, slop and slap is almost hard wired into our brains these days but many people don't think about applying the same thinking to their pets.
Whilst you can't exactly slip, slop and slap your pet, you can do other things that keep them comfortable during the warm summer months.
Can your dog get sunburned?
Dogs are just as sensitive to sunburn and uva and uvb radiation from the sun as humans. This is more the case for animals with thin coats or in areas of their body that are not as densely covered with fur. Eyes are also sensitive to the sun's uv radiation.
So what can you do? You can get animal approved sunscreen. You should also makes sure that it is completely rubbed into the skin before letting your pet go. This will prevent the animal licking off the sunscreen, diminishing it's effectiveness and potentially making the animal sick.
You can also get goggles or glasses for your dog. These are referred to as doggles and are specially designed to fit the shape of a dogs head.
These ideas might seem a bit excessive but at the very least, you should provide your pet with plenty of water to keep it hydrated. Always keep a dog bowl filled with water. Even think about having a few places where your pet can get water from.
You should also provide your dog with plenty of spots to get shade from. Dogs will naturally go to these places if they are hot. Ideally a few large trees in the backyard will provide this natural shade throughout the day but you should also provide a "man made" shade spot for your pet.
If the animal's kennel is not in a naturally shady spot, you should think about moving it to a suitable spot, even just for the summer months.
More about Doggles
Summer is the time for parasites
Mosquitoes, fleas and ticks are particularly prevalent during the summer months. They can make your pet's life a misery. So summer is a time to be particularly vigilant.
Check your dog's body as often as is practical (ideally everyday). Rub your hands around the animals body feeling for any lumps or bumps. These could be ticks. If you are confident at doing so remove the tick, making sure to remove the head too, or take to your nearest vet.
Also, generally observe your dog to see if it is scratching itself more than normal. This could be an indication that it has fleas. A simple examination will also confirm this assumption.
If this is the case, then you should give your dog a treatment like Frontline to remove fleas and ticks.
As far as mosquitoes go, there is not much you can do to treat the problem, except to ensure that areas around your home are not a breeding ground for the parasites. Make sure there is no still or standing water in your home and garden as that will be an ideal environment for mosquito larvae.
View a range of products for Dog Health
Posted By mick on Wednesday 24th October 2012 @ 23:48:53
Updated : Thursday 1st November 2012 @ 01:18:04 | Words : 565 | Views : 4220 | Comments : 0
© Australian Pet Shop Since 2008

Dogs really are amazing animals. In fact, they are the only animals apart from humans who can read a . . .
Posted By Kayla on Wednesday 8th May 2019
Words : 704 | Views : 253 | Comments : 0
Having trouble sleeping because your dog is barking excessively into the night? We have all been the . . .
Posted By chantelle on Wednesday 23rd April 2014
Words : 413 | Views : 80974 | Comments : 0
It is no secret that dogs love food and treats. Treats are a good way to reinforce obedience and pos . . .
Posted By chantelle on Wednesday 16th April 2014
Words : 292 | Views : 6895 | Comments : 0
Blogger : mick

. . .
Registered Since Wednesday 29th November 2017
Topics : 13 | Comments : 0