3 Must Have Dog Toys For Your Pet
Dogs of all shapes and sizes need to have a few toys to play with. Puppies need them more than older dogs as they are bundles of energy and need to focus their energy on something other than your best pair of runners. So here are 3 toy ideas to think about if you have a doggy birthday to attend or just want to treat your pet.
Frisbee Fun
The Frisbee has come a long way since the 1970's. You don't see so many people playing with it anymore but you do see people tossing it for their dog to chase and catch. The Frisbee is a great toy to use as part of a daily exercise regime for your pet (and yourself). Most bigger dogs, especially traditionally bred working dogs, love to chase things and retrieve them for their owner. Catching adds a spectacular aspect to the fun and even makes it enjoyable for you to watch.
A popular Frisbee style toy is the EzyDog Dogstar Flyer. The Flyer doesn't have the traditional round Frisbee shape but is square with "feet" on each point. The feet raise the toy above ground level whenever it lands on the ground, making it easier for your dog to grasp during a fetch play session.
Even though it is square, the toy still flies well and will provide heaps of fun for you and your pet. It is made of a nylon fabric and comes in a number of colours. It also floats on water so you can toss it into the pool, a lake or the sea, provided your dog is comfortable in those environments.
Sneaky Doggy Treats
These toys were first popularized in Zoos to keep animals from getting bored. Essentially the toy is a bit of a puzzle for your pet. Food is placed inside the toy and the dog has to work out how to get the food out. The motivation to get the food will keep your dog busy and relieve any boredom if he/she spend lots of time in a backyard alone.
One example of such a toy is the egg loader. This is a rubber egg shaped item that has holes in it. You can load treats inside the egg and toss it to your pet. He/she will spend hours chewing away at the toy trying to get the tidbits out. Not only will this keep your pet occupied but it will also act as a dental aid to keep his/her teeth free of tartar build up and other periodontal diseases.
Squeaky Dog Toys
You can get all sorts of chewing toys for your dog. These are man made versions of a bone or some other item that a wolf might chew in the wild to while away the time and clean the teeth. When the chewing toy has a few extra "bells and whistles" to it then the dog finds it more stimulating. This is especially the case with puppies that are constantly on the look out for a bit of extra excitement.
Squeaky toys could simply be a ball or, what is termed a dumb bell. The dumb bell has the familiar shape of a traditional dumb bell but it is made of rubber or plastic. The shape makes it easier for a dog to chew on. Whenever the dog chews on the toy it will make a squeaking sound which the dog will respond to.
You can also get animal shaped squeaky toys or soft toys. I'm not sure how much your dog understands about such a toy but it looks cute to see him/her playing with it.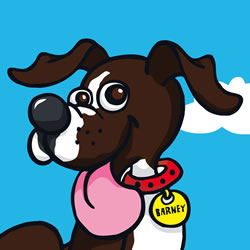 Posted By mick
Established in 2008 Australian Pet Shop is a family run, boutique, pet supply business that provides a range of products for your pet and strives to provide great customer service.
Updated : 16th May 2020 | Words : 613 | Views : 18018
Latest
Popular